June 30, 2022
From ice-going tugboats to frigate repair to installing diesel engines on a new scientific vessel, it has been full steam ahead at Seaspan Shipyards. At Vancouver Shipyards, steady progress is being made on our current build projects under the National Shipbuilding Strategy. At Vancouver Drydock, it was a steady stream of both new and familiar vessels who came to see us for repair and maintenance and at Victoria Shipyards, we continued with our schedule of work on frigates and submarines for the Royal Canadian Navy.
Vancouver Shipyards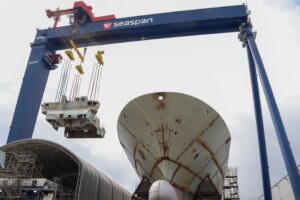 Underneath Big Blue, the Royal Canadian Navy's future Joint Support Ship continues to take shape. Two-thirds of the longest naval vessel ever to be constructed in Canada for the Navy is now on the hard stand and 75 per cent of its blocks are structurally complete. Anyone who happens to sail by in the harbour can now see that the vessel is getting considerably taller. Seaspan erected the vessel's first super structure block in mid-April, which was quickly followed by a number of others, one of which contained sections of the most important part of any ship, the dining room. As well, in early June, the team consolidated a 105-tonne block to the hull which contains the Replenishment at Sea (RAS) station. This will serve as a control centre when the JSS is transferring fuel and other supplies to other vessels at sea.
Inside the shipyard's buildings, blocks for another vessel, the Canadian Coast Guard's future Offshore Oceanographic Science Vessel, have begun to take shape. Following one year since steel was first cut for the ship, work has begun on more than half of the ship's 38 blocks, and more than 1,100 tonnes of steel has been cut for the vessel. In late April, we commenced engine load out and integration into the engine room block, following delivery of the three main diesel generators to the shipyard.
Vancouver Drydock
At Vancouver Drydock, the team is continuing their steady pace of ship repair and maintenance projects. After a flurry of barge projects to start the year, including two from Sause Bros Inc and three from Alaska Marine Lines, Vancouver Drydock welcomed a pair of noteworthy, cold weather-related vessels to the yard for maintenance work.
The first, Cook Inlet Tug & Barge's Dr. Hank Kaplan tugboat visited from Los Angeles, on its way to its new home in Alaska. To help ensure the vessel was ready for the colder weather, we added more than 20,000lbs of steel to ice-strengthen the hull, which will ensure that the tug will be able to carry out its duties in more frigid conditions. This project was also the first time that we had the opportunity to apply a special, high-performance marine coating for ice-going vessels to a ship at Vancouver Drydock.
To prepare for its cruise season in Alaska, Greenland and Iceland, Hurtigruten Expedition's MS Roald Amundsen was in the drydock in May for maintenance, including minor steel modifications and a new coat of paint for the underwater hull. The Roald Amundsen is the first of two hybrid vessels in the Hurtigruten fleet and relies on electrical propulsion to help reduce fuel consumption and CO2 emissions. It was the second time it has visited Seaspan for maintenance work.
Victoria Shipyards
Over on the Island, our Victoria Shipyards has been keeping busy at the Esquimalt Graving Dock with a number of different Royal Canadian Navy vessels.
As part of a Docking Work Period for the RCN, HMCS Regina entered drydock at Victoria Shipyards in early June and is scheduled to complete its refit in December 2022. This is one of the five West Coast Frigates part of a long-term contract for repair and refit work. The following frigate, HMCS Calgary is due arrive at the shipyard in January 2023.
Submarine work over the past few months included an extended docking for the HMCS Victoria to address repairs, testing and system re-commissioning. HMCS Chicoutimi remains alongside at the Esquimalt Graving Dock South Jetty in a Transition Docking Work Period until mid-2023. This vessel will also see repairs in tanks and structures as well as needed general repairs, testing and system re-commissioning. HMCS Corner Brook is nearing the completion of a major extended docking work period and will return to service in early 2023.